Aron K. Insinga
aki@insinga.com
Work
I work at Locus Robotics. As usual, I only speak for myself, not for the company, which does not necessarily endorse anything I say on any web site or elsewhere.
My amateur radio call sign is W1AKI and I am a member of the Nashua Area Radio Society (call sign N1FD). I am an ARRL Volunteer Examiner and I help teach N1FD's licensing classes.
Computer History
Before structured VLSI design, and even before microprocessors, there was an interesting approach to hardware design based on high-level functional components: register transfer modules.
Other computer history projects include contributing to the DSAA: Project DELTA archives. as well as preserving other information about antique computer architecture. There's also some info that I found on Babbage's Difference Engine and Charles Babbage himself.
I was one of the original docents of The Computer Museum (originally known as The Digital Computer Museum; now The Computer Museum History Center) when it was started in DEC's MR2 facility (1 Iron Way, Marlborough, MA) and I worked in DEC's Large Computer Group Diagnostic Engineering department next door in MR1 (200 Forest St). (The buildings themselves were historical, having originally been built for RCA's computer business.) Besides giving occasional tours, and preparing to give tours by soaking up whatever I could from Gordon Bell and Maurice Wilkes and others, I helped them find a PDP-7 that I saw pushed out of a lab and onto a balcony (but thankfully not off of the balcony!) during the rennovation of a building at Worcester Polytechnic Institute.
I also gave them an Autonetics D17B Minuteman I Missile Guidance Computer that I had salvaged from the University of Delaware.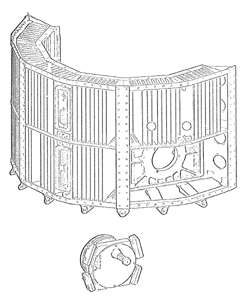 Illustration of this machine from the documentation.
I also gave them some modules from a Bendix G-15 that had been scrapped at an electronics salvage yard in south Philadelphia. (And yes, yes, I am still kicking myself for not begging or borrowing enough money to buy the thing the first time that I saw it, before it had been scrapped.) Links to other information on antique computers.
Other Museums
Hagley Museum has great exhibits on early industry in the Brandywine Valley, especially the original DuPont gunpowder mills!
Goddard Space Flight Center and its Visitor's Center.
Other Organizations
I started building model rockets back in the late 1960s, and in the 1970s I was active in the National Association of Rocketry (NAR), NAR #14955. The Gemini Model Rocket Society, which was started in New Castle, DE, was NAR Section #116.
In the 1980s I was active in New England Science Fiction Association (NESFA) and I edited several books and the proceedings of a "SMOFCON" (a convention about running conventions) and helped out with the production of a few others for NESFA Press. At the time, we were making the transition from using Typotech, which had self-service non-WYSIWYG photo-typesetters, in Cambridge, MA, to using Microsoft Word and Aldus Pagemaker on Mac in the comfort of our own homes and clubhouse.
Education
I learned to program on a PDP-11/20 while attending Thomas McKean High School in Delaware, about 1970 or 1971, thanks to DSAA: Project DELTA (where I worked as a volunteer in high school and a staff member as an undergraduate). DSAA (Delaware School Auxiliary Association) is a private organization which works to improve education in the state. I suspect that this is both because it is the right thing to do from the duPont family's view point of feudal obligation, and because a well-educated work force is required by modern industry. Project DELTA is no longer in operation, now that the Delaware schools themselves understand that they need to have students using computers, and now that computers are so incredibly cheap.
University of Delaware (Bachelor of Electrical Engineering, 1978).
Worcester Polytechnic Institute (Master of Science in Computer Science, 1987). Thesis: Implentation of a Parallel Parser Driver.
---
Copyright © 1998 Aron K. Insinga. All rights reserved.